EU: Polish ritual slaughter illegal, court rules
28/11/12  www.bbc.co.uk

Halal meat can be found on sale across the EU
Poland's top court has ruled that the religious slaughter of animals is illegal, weeks before an EU law allowing the practice takes effect.
EU: Dutch Government Planning Ban on Kosher Slaughtering
7/10/12  www.jewishpress.com
Dutch Agriculture Minister Henk Bleker  Photo Credit: EJP
The Dutch government is drafting a decree that would give it veto power over anyone who wants to practice ritual slaughter, or sh'chitah, in the Netherlands.
EU urged to end "excessive" ritual slaughter
17/5/12  www.europolitics.info
Behalal comments: It was a matter of time when this ("excessive") raised it's head as another attempt to control the production of halal and kosher meat from religious slaughter methods. The over production is from pre-stunning methods which produce much higher yields.  Assumptions have been drawn that halal means religious when this is not the case in practise.
The Food Standards Agency (FSA) who conducted a survey into animal welfare in slaughterhouses in September said its own figures showed most animals were stunned before being killed.  A spokesman said: "The results indicate that the number of animals not stunned prior to slaughter is relatively low, accounting for 3% of cattle, 10% of sheep and goats, and 4% of poultry.
"They also show that the majority of animals destined for the halal trade in both the red and white meat sectors are stunned before slaughter."
The FSA said full details of the survey would be published ahead of a discussion at a board meeting on 22 May and these figures dispel the myth of over production of religious slaughtered meat.
EU: Salmonella superbug on the rise
3/8/11
By Helen BriggsHealth editor, BBC News website
Most Salmonella infections are mild
A strain of Salmonella resistant to the most powerful antibiotics has been found in the UK, France and Denmark.
Interview: Malaysia will double EU trade in ten years – trade minister
12/7/11  www.neurope.eu
FTA deal expected to be in place by April 2012.
by Andy Carling
Malaysia's International Trade and Industry Minister Mustapa Mohamed. | EPA/AHMAD YUSNI
EU: Food labelling: What does it say on the tin?
7/7/11
Netherlands: Culture clash over ritual slaughter ban
23/6/11 www.rnw.nl
By John Tyler
Two traditions clashed in the Dutch parliament on Wednesday evening: religious tolerance versus animal rights. The one rooted in centuries of Dutch history, the other a new development that seems to have rapidly become an element of 21st-century Dutch identity.
Plan to label ritually slaughtered meat angers religious group
24/4/11 www.guardian.co.uk
MEPs' initiative to label meat from animals that have not been stunned before slaughter will be voted on in June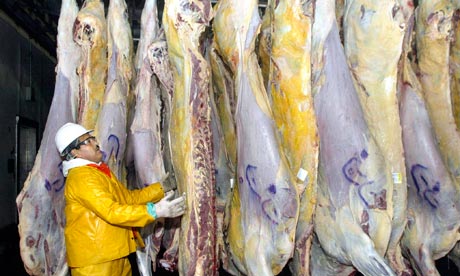 Kosher beef carcasses at a slaughterhouse. Photograph: Harry Baumert/AP
EU wants to label ritually slaughtered meat 'slaughter without stunning'
20/4/11
New EU proposals have steered away from labelling meat from ritually slaughtered animals as Halal or Shechita to avoid causing religious offence, instead opting for the label of "meat from slaughter without stunning".
The key aspects of a Halal slaughter are that the animal must be alive and healthy when it is slaughtered Photo: RII SCHROER
Jewish, Muslim Groups Protest as Dutch Debate Banning Ritual Slaughter
8/4/11 eyugoslavia.com
By Srebrenka Kac on Apr 8, 2011 in Featured, General News
There are high chances that the Netherlands, who is one of Europe's first countries to allow Jews to practice their religion openly, may ban the kosher and halal slaughter procedure of animals in the region.
Codex Alimentarious – Halal guide
1 CAC/GL 24-1997
GENERAL GUIDELINES FOR USE OF THE TERM "HALAL"
Europe's Muslims and Jews Unite to Fight Food-Labeling Proposal
Written by Benjamin Peim  theMedia Line.org
Published Wednesday, December 29, 2010
Law would require warning about inhumane slaughter used in halal and kosher meat
Muslim and Jewish organizations in Europe are putting aside differences over the Middle East conflict to team up against a proposal by European Union (EU) lawmakers that would require ritually slaughtered meat to carry a label warning consumers about inhumane treatment to animals.
Lorem ipsum dolor sit amet, consectetuer adipiscing elit. Cras iaculis. » read more
Lorem ipsum dolor sit amet, consectetuer adipiscing elit. Cras iaculis. » read more
Recent Articles
ADVERTISING HERE