4/7/11 www.huffingtonpost.com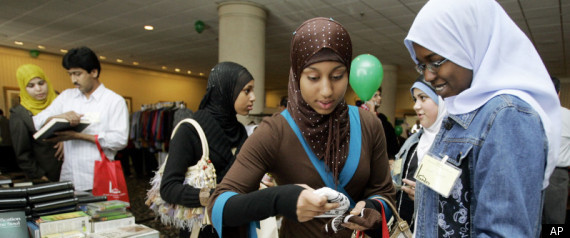 ROSEMONT, Ill. — If Muslims want to improve their image America, they have to get involved in their communities and proactively talk Islam before controversies arise, leading Muslim figures told 40,000 people gathered at the continent's largest Islamic convention this weekend.
The message, echoed among dozens of panels and discussion groups at the Islamic Society of North America's annual meeting in suburban Chicago, comes after a difficult year for American Muslims. Several states have passed or proposed bans of Islamic law, mosque construction projects have met ferocious opposition and polls have shown that many Americans have a negative perception of the religion.
Panels carried titles such as "Muslims Under a Microscope," "Anti-Sharia Initiatives: How to Respond" and "Not in My Backyard," regarding to anti-mosque construction campaigns. The sessions at ISNA, which were based upon the requests of members, indicated that Muslims are also concerned about the state of their religion as the 10th anniversary of 9/11 approaches.
"We have to balance the internal needs of the Muslim-American community with our need as Muslims to defend Islam," said Ingrid Mattson, a member of ISNA's executive council and a professor of Islamic Studies and Christian-Muslim Relations at Hartford Seminary. "We have to constantly battle those negative threats to define us."
ISNA's four-day convention, which ends Monday, drew top scholars and religious leaders of the estimated 2 million Muslims in the U.S. and also attracted a sizable Canadian contingent. The attendees included imams, activists, womens' issues advocates and Muslim professionals, but also among them were dozens of Muslim-oriented businesses and community groups.
In a vast bazaar that smelled or rosewater and incense, vendors hawked pre-packaged Halal chicken patties next to publishers selling Quranic translations and commentary in dozens of languages and vendors distributing brightly-colored headscarves and abayas, full-body robes for women.
Shariq Abdul Ghani, a graphic designer from Houston, was giving out free T-shirts at one booth. "Jesus and Mary were Muslim, too," read a bright orange one decorated with a drawing of a tree branch. "Islam is pretty awesome. 1.7 billion people like this," said another, mimicking the Facebook icon.