23/8/12 www.rte.ie
The High Court has ruled today that Co Waterford-based Cappoquin Chickens Muslim director Perwaiz Latif will play a significant role in its success under examinership.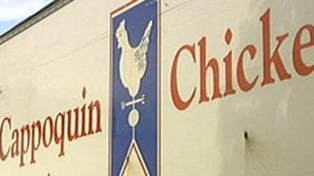 The company is insolvent with debts of €6m
Mr Justice John D Cooke transferred all boardroom powers to examiner Michael McAteer.
This is subject to his not altering the production process and techniques material to the halal accreditation of the business without prior consultation with Mr Latif.
However, Mr Latif is stripped of any managerial decision making on the future of the company.
The company is insolvent with debts of €6m and had been dependent on a large portion of its €23m processing turnover being sold into the British market for Muslim consumers.
Judge Cooke said the retention of the halal processing accreditation through the company's continued adherence to particular slaughter and butchering techniques laid down under Muslim law was crucially important for the success of the Examinership.
Barrister Rossa Fanning, counsel for the Examiner, said there were 200,000 chickens processed weekly at Cappoquin's plant and Mr McAteer would not be making changes to the halal processing techniques currently in use.
The judge said any dispute on these matters should be dealt with by the court. He said the transfer of managerial boardroom duties to the Examiner was not being done because of any express or implied misconduct or lack of trust.
Ross Gorman, counsel for the largest unsecured creditor of the company, Henry Good Limited, Kinsale, Co Cork, had sought the appointment of the examiner on the basis that the chicken processing company had a reasonable prospect of survival given the protection of the court.
Mr Brian Kearney, counsel for Cappoquin Poultry Limited and Cappoquin Poultry Holding Limited, said company director Mr Latif was willing to co-operate with the examiner to maintain the vital halal accreditation of the company.
The company directly employs 136 workers and provides work for dozens of associated workers in chicken rearing and provisions. The examiner now has 100 days of protection from its creditors in which to convince the court he can save the company as a going concern.