1/1/2012 www.ttnworldwide.com/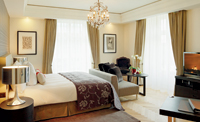 A newly renovated luxury bedroom
WITH a 150-year-old history, the Hotel Schweizerhof Bern celebrated its reopening last year. A hotel that has welcomed guests like Peter Ustinov, Grace Kelly and Albert Schweitzer underwent a two-year total renovation and now stands tall in its new finery.
The hotel now offers 99 rooms and suites each with a luxurious four-fixture bathroom. The new design is very much within the spirit of the old hotel – noble, cosmopolitan and belonging to its location and cost over CHF 50 million ($53 million). The hotel was redeveloped by Qatari Diar Real Estate Swiss AG.
General manager Michael Thomann said: "Our new baby, the Hotel Schweizerhof Bern will definitely put Bern on the tourism map. Bern is a perfect hub being only 40 minutes form InterLaken, one hour from Zurich and 1.5 hours to Geneva."
Thomann was in the Gulf last month, meeting travel agents to educate and promote the property for the summer season. Since its opening, the hotel has received several Arab guests including Embassy officials. Thomann is keen to see these numbers grow as European markets continue to suffer because of the decline of the euro against the Swiss franc.
Thomann said: "We are equipped to cater to the Arab guest requirements offering the Quran and prayer mats, Arabic TV channels, halal food, connecting rooms which are ideal for families. As our owners are Qataris, we are tuned in to understand their requirements. I believe that the Arab market will be a niche for us, especially in the summer months and we have set a revenue target of five per cent from this market."
Thomann was also responsible for the refurbishment program. An important factor was to give it a modern but a warm design and look. The colours used across the hotel are warm and with only 99 rooms, Thomann believes the hotel must be managed like a resort property.
"Personal touch and personal service is necessary to ensure our old and new guests immediately feel at home. Our loyal guests have appreciated the new hotel. For a few who do miss the old-hotel, we have our other property the Bellevue Palace," he added.
The renovated hotel opened in June 2011 and had already acquired 30 per cent of the market share by July 2011. By October 2011, this had reached 90 per cent, despite tough economic conditions in Europe. In terms of RevPar Hotel Schweizerhof Bern has one of the highest revPar in Bern.
"We are now seeing a strong interest particularly in the conference and seminar facilities," added Thomann.
The Qatari Diar has invested a total of CHF 500 million ($534 million) in three hotels including the Hotel Schweizerhof Bern. The other properties are Burgenstock Resort in Lucerne and the Royal-Savoy in Lausanne.