26/8/12
23/8/12 www.rte.ie
The High Court has ruled today that Co Waterford-based Cappoquin Chickens Muslim director Perwaiz Latif will play a significant role in its success under examinership.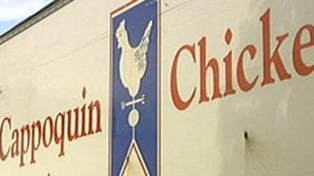 The company is insolvent with debts of €6m
Mr Justice John D Cooke transferred all boardroom powers to examiner Michael McAteer.
21/8/12  www.dailymail.co.uk
Shocking new research reveals chemicals in make-up linked to allergies, arthritis and even low fertility…
14/8/12  www.independent.ie
By Aodhan O Faolain and Ray Managh
The High Court has appointed an interim examiner to a chicken processing company that employs more than 130 people.
Yesterday Mr Justice George Birmingham appointed Michael McAteer of Grant Thornton as interim examiner to both Cappoquin Poultry Ltd (CPL) and to a related company Cappoquin Poultry Holdings Ltd after being informed the business has debts of €6m.
14/8/12 english.alarabiya.net
Vegetable vitamins that are free of animal fat are not new, but linking the ingredients of a given medicine to the teachings of Islam is innovative. (Al Arabiya)
14/8/12 www.insidermedia.com
A £52m-turnover poultry supplier due to celebrate a half century in business in 2014 has been bought out of administration.
13/8/12  CNN
Demand For Meat Predicted To Double Over Next 40 Years
By Tom Levittfor CNN
(CNN) – A burger grown in a laboratory. Sounds like science-fiction? Well up until very recently it probably was but now the prospect of lab-grown meat appearing on our supermarket shelves is closer than ever.
12/8/12  www.meattradenewsdaily.co.uk
Reciprocal Meat Conference Hot Topics Paper
An Essay by Joe M. Regenstein, Professor of Food Science, Head: Cornell Kosher and Halal Food Initiative, Stocking Hall, Cornell University, Ithaca, NY 14853-7201, USA JMR9@cornell.edu
The Jewish and Muslim communities have a set of dietary laws that control the food they eat. These are part of a larger set of laws that impact almost every aspect of their daily lives. The Kosher laws for Jews and the Halal laws for Muslims have been described in some detail by Regenstein, et al. (2004).  The focus of this paper is on one of the most important components of these laws, how an animal is killed for food. In both communities there has been a well-document interest and concern for animal welfare long before it was fashionable in the Western world. Both groups traditionally use a cut at the neck to make the animal unconscious. Note also that both groups do not slaughter or use pigs.
7/8/12  israel21c.org
Israel's LycoRed plant-derived food coloring is the only one of its kind to win the FDA's green light.
The reds and oranges in candies don't have to be from synthetic dyes.
Scholars, Experts, Consultants, Specialists, Nutritionalists and Environmental Health Officers. » read more
The official publication to accompany this website. » read more
Recent Articles