30/4/11 _
By Dominic HughesHealth correspondent, BBC News
New regulations mean many herbal remedies will no longer be available over the counter
30/4/11 www.stuff.co.nz
By Mark Hotton
Invercargill will host the New Zealand Halal Slaughtermen Union's seventh annual meeting today, with between 30 and 50 members from throughout the country expected to attend.
29/4/11 sachaorloff.wordpress.com
WAM Dubai, 17th March 2011 (WAM)
29/4/11 Press Release
Stamford, CT – April 27, 2011 – What does the Silk Road, delicious cuisine, and Saffron spices have in common? They'll all
be featured on the NEW Saffron Road™ website,www.saffronroadfood.com, which launches today. Given the brand's
outstanding response since its launch in August 2010, its web presence simply needed to be expanded and improved to allow
for more content and consumer engagement.
28/4/11 Press Release
Weekly summaries of the red meat industry markets, retail prices and other industry trends are now accessible directly via the EBLEX website.
26/4/11 online.wsj.com
By Ray Brindal
CANBERRA—As populations and food needs grow across the Middle East, one Egyptian businessman has spotted a niche export opportunity for Australia: camel meat.
25/4/11  www.dailymail.co.uk
By Paul Sims
6% of products contained fish not even mentioned on the label

Young's Dippers made using Vietnamese River Cobbler

Shoppers are being duped by major supermarkets into buying portions of fish that contain other, much cheaper species, it has been claimed.
A total of 400 fish dishes bought from Asda, Tesco, Sainsbury's, Morrisons, Waitrose and Lidl were DNA tested as part of a new study.
And the analysis of the tests revealed that 23 portions – six per cent – contained species of fish not even mentioned on the label.
Codswallop: Scientists claim these Young's Flipper Dippers – labelled as containing Alaska Pollack – were made using a freshwater catfish
25/4/11 www.tradearabia.com
Brazil-based import-export company BrazArtis Assessoria em Comercio Exterior Ltda,  is bringing a range of Brazilian super-foods and juices to the Middle Eastern market this year.
24/4/11 www.guardian.co.uk
MEPs' initiative to label meat from animals that have not been stunned before slaughter will be voted on in June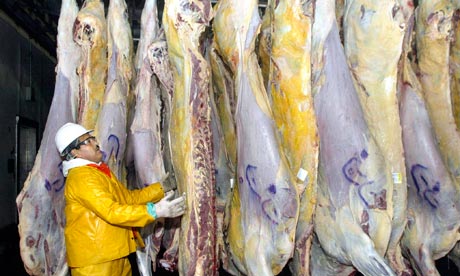 Kosher beef carcasses at a slaughterhouse. Photograph: Harry Baumert/AP
22/4/11
The FINANCIAL — European rabbis are up in arms over a bid to impose meat labels indicating how an animal was slaughtered, warning it could kill the kosher food business by portraying their ritual as "barbaric."
22/4/11 www.dailymail.co.uk
By Sophie Borland  Published 22nd April 2011
A chemical which causes cancer has been found in a huge range of foods including bread, crisps and baby food.
21/4/11
74% of GCC consumers agree red meat essential for healthy diets
Dubai, 21st April 2010: A majority of health professionals and consumers in the UAE and the GCC consider red meat an essential part of healthy and balanced diets, showed the findings of two surveys released today by Meat & Livestock Australia (MLA), the marketing arm of Australian lamb and beef meat exporters.
21/4/11
A European Parliament committee has backed a proposal for meat to be labelled as "from slaughter without stunning".
21/4/11 www.express.co.uk

Euro Mps shied away from labelling meat from ritually slaughtered animals as halal to avoid offence
20/4/11 www.dailymail.co.uk
For the average woman who is eating around 2000 calories a day (i.e. not dieting), the maximum amount of fat that's recommended daily is 70g.
Scholars, Experts, Consultants, Specialists, Nutritionalists and Environmental Health Officers. » read more
The official publication to accompany this website. » read more
Recent Articles